Since I'm quite a social person, I've always enjoyed meeting up with friends or new people as much as going outdoors and birdwatching. A combination of the two is my dream scenario. So the idea of the Birdfair was, personally, very appealing, and would mean I had the chance to meet so many of the people I'd made friends with on social media over the past couple of years.
When it comes to nature, I've always wanted to have some sort of involvement with the campaigning and environmental side of it, even if my greatest passion is for the birds and birdwatching aspect of the hobby. It would be fair to say that had I not joined the 11-24 Rangers group at my patch (Morden Hall Park) when I was 14, I really wouldn't be anywhere now. Fortunately, as a group of 'Urban Rangers,' we were going to an event led by another linked group in the Clent Hills (West of Birmingham) for the day before Birdfair, before heading to Rutland Water for the Saturday.
We reached the Clent Hills at around 10am after leaving Morden at 06:45, where some of the best of the birds included around 60 House Martins, 2 Swallow, a Willow Warbler, a Marsh Tit, Bullfinch and a couple of Sparrowhawk. Despite the pouring rain, we spent most of the day outdoors at the National Trust site, where the youth ranger group there would be leading walks about nature, talking about the site and what they'd done there for conservation work. It was a nice way to spend the day, despite getting soaked, and we all had a pretty enjoyable time.
It was still an epic day - definitely one of the highlights of my year - as I finally

got to

meet so many people that I'd known for a long time.
The evening can only be described as slightly surreal. Due to the Clent Hills campsite being flooded, we had to take refuge and camp in the garden of the lady who had been helping us that day. I can really say for certain that there are no better hosts than those who work for the National Trust, and the first class service meant the night was as relaxed as possible; so much so that the rain didn't stop us from getting sleep.
On the morning of Birdfair, we left the house in Shropshire (thanks so much to Dee from the National Trust for letting us invade her house for the night!) at 7am, eventually reaching Birdfair at 10:30.
To start the day, I volunteered at the National Trust stand for the first hour or so, where we were just generally talking to the few people who stopped. The highlight was when two people that I'd become good friends with via social media (Michael S and Sian M) decided to pass by in the hope I wouldn't recognise them...thankfully Michael's Scottish accent gave it away! While at the stand, I also got to catch up with Ed Stubbs and David Campbell, the two legends that had taken me for a day's birding in Sussex earlier this year.
Toby's Young Birder's Walk
At 12pm, it was time for Toby Carter's annual Young Birder's walk; this has quickly become a highlight for many young birders across Britain to meet each other and head out onto the nature reserve. Since there was a 'lie-in' event led by Chris Packham to show support for some of the young climate activists at the same time, this meant some people sadly couldn't join the walk. It just goes to show how many more young people there are now that do care about the environment, and it's not just about birding!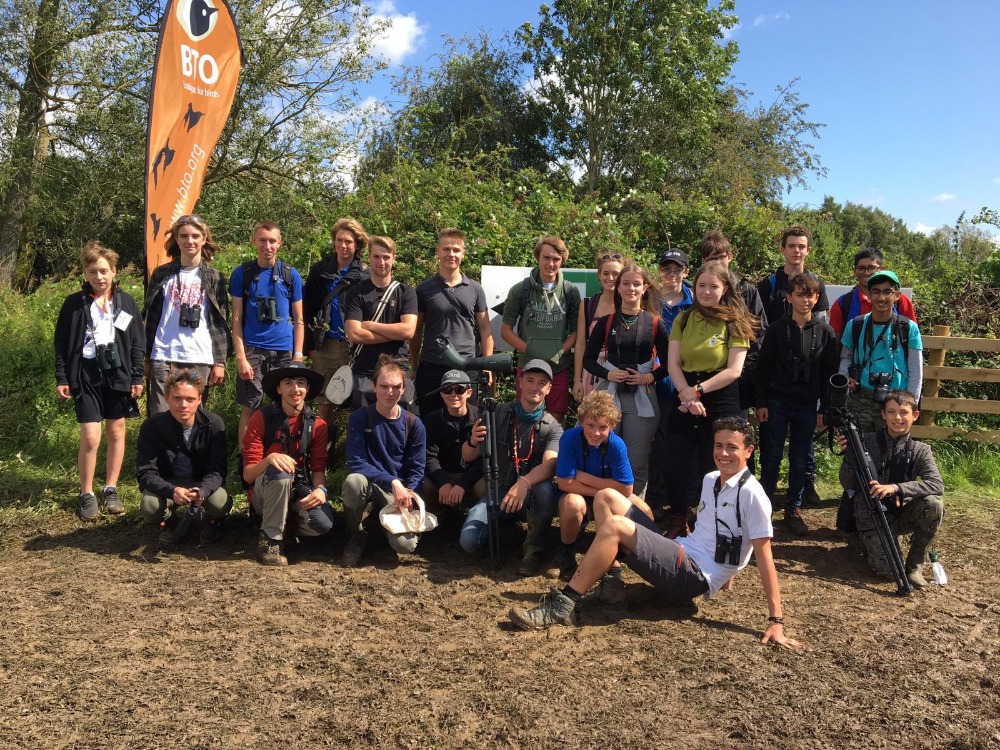 Toby's walk was just as good as expected. For me, the best thing was finally getting to meet all the people of a similar age to me that I'd spoken to on social media - to name but a few, it was brilliant to finally meet Elliot Montieth, Alex Chapman, Toby Carter, Sian Mercer, Sam Newcombe, Jack Bradbury, Indy Kiemel Greene, Matt Lonsdale and many more. With so many young birders on the walk, it was also another chance for my Kittiwake fame to spread. After a video from Spurn, where I was pranked about a non-existent Kittiwake, was seen by nearly 3500 people on Twitter, the few who didn't know that I hadn't seen one of the (slightly dull,) white gulls did know by the end of it. As usual thanks to Calum for doing his very best to annoy me. All to add the fun of the walk obviously..! That said, the birding was much better than the year before (where only 3 Dunlin were seen...)
While Ruddy Shelduck and Sanderling were seen from the first hide, a few Common Tern and Ruff were seen from the second. We were then treated to some awesome views of a Great White Egret that was fishing fairly close to the hide; at least 3 Ospreys - the star bird of Rutland - were circling over the water. This even gave me the chance to get my first pictures of an Osprey, which I was really pleased with. The addition of a Black Tern, which showed pretty well, added to the good bird list for the walk, which was a great chance to catch-up with some people I can only wish to see more often.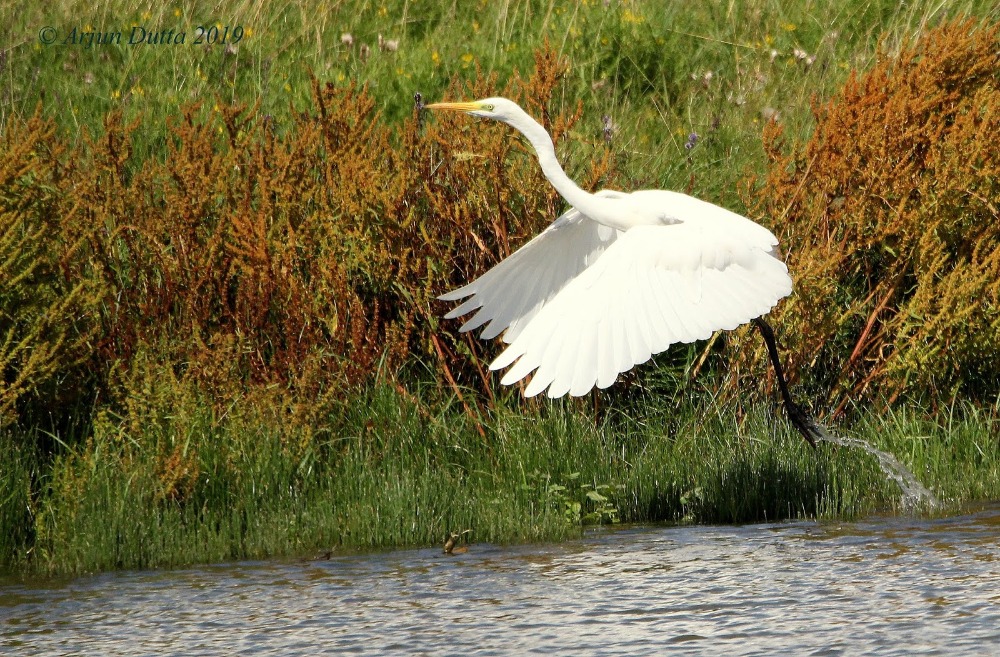 With the walk finishing shortly before 3, I returned for a bit of lunch before launching a surprise on Calum, the only bit of embarrassment I could get back on him. Him being him meant he liked it more than expected, but since it had just past his birthday, I'd got him a (what I thought to be ridiculous) shirt.
For the next hour or so, I helped out the National Trust in a new event about offering careers advice, which I thought was a pretty good, useful idea - especially as I'm starting to look at what I'll do in the future for employment now. It was nice to chat to those giving the support on possible future jobs, and it gave me a good chance to talk to Faye from the BTO again, reflecting on how good Spurn had been a few weeks prior!
I then met James Miller (a 17 year old environmentalist, also from Surrey) briefly before I went off to see David Walsh, one of the biggest heroes to the community of young nature enthusiasts. As it was getting close to 5, where A Focus on Nature were having a group photo of all the younger people, I met up with Megan McCleverty (who I'd met at Spurn a few weeks before,) Sam Levy and Alex Chapman again for a bit, before we headed off for the group photo. Sadly, my time at Birdfair came to an end here, as I was going on a short family holiday to Norfolk for a few days.
It was still an epic day - definitely one of the highlights of my year - as I finally got to meet so many people that I'd known for a long time. With the bonus of some quality wildlife, all in a thoroughly enjoyable atmosphere, it was an event that was much better than I expected, and I can't wait to go again in the future. Thanks for reading :)