The Cornell Young Birders' Event 2017 was absolutely amazing. Words don't do justice to how incredible these few days truly were…
It was a privilege and absolutely fantastic to learn and be given advice from those at the top of the profession which I hope to go into, on both career paths and ways to get into the scientific ornithological sector, as well birding in general. I learnt a lot about the identification of species which were previously unfamiliar to me, as well as seeing a multitude of new avifauna (101 lifers). However the Cornell Young Birders' event provided another unique opportunity; the huge social aspect of the event. It isn't particularly common, unless at an occasional event, for young birders to meet up and spend time together on such a scale, both in the UK as well as the USA, so these few days were also a great occasion to share my passion with those of a similar age and make a lot of new friends.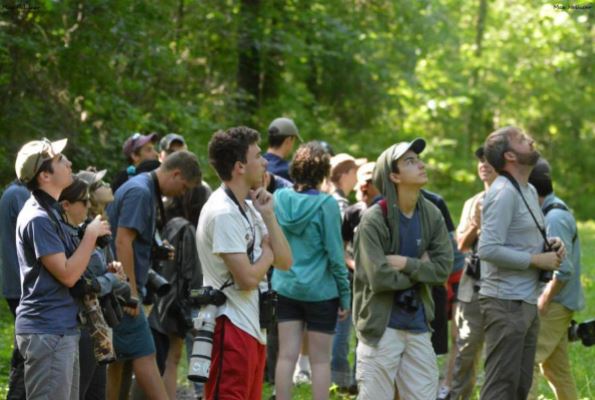 Watching Cerulean Warblers and Yellow-throated Vireos
The underlining advice from all researchers and staff which I took away from the event was to take every opportunity… There are a lot of great opportunities out there, especially for young birders nowadays, so make the most of them. Do everything you can, as life is short. Sometimes this may seem scary, but most often it will pay off in one way or another. Spend as much time in the field as you can, learn tricky ID challenges, get involved with data monitoring, and gain relevant experience in the field you are passionate about...
Being able to visit Cornell at this early stage in my was an incredible boost to my determination and further expanded my mind to the many different fields which sit within the scientific ornithological sector. It gave me a clearer understanding of how best to achieve my ultimate goal of working for scientific ornithological research organisation, such as Cornell Lab, which is a fantastic location and one which I hope to visit again in the near future.
The overwhelming sense of encouragement and willingness to share information on any subject from everyone at Cornell Lab is very impressive. Many thanks go to Chris, Jessie, and Ian for providing transport across the event and their skills in the field, and everyone else at Cornell for all of the advice and the sharing of information. Thanks so much to the event organisers, Cornell staff, and everyone else involved in making this event a major success. The event couldn't have possibly been better and couldn't have been organised and managed more efficiently. I am very grateful to each and every person who was involved.
It was great to familiarise myself with a wide selection of new ornithological taxa, a daunting prospect at first but one which was picked up pretty quickly… Thanks to both Cornell staff and the other youngsters for their help and the pointers I received being unfamiliar with many of the species.
Many thanks go to Zeiss for their great level of support and encouragement for us youngsters; providing a pair of brand new binoculars, each of which will be used frequently, for every young birder at the event, a very kind gesture which was very much appreciated by every one of us.
Thanks so much to The Cameron Bespolka Trust for providing the sponsorship which made this incredible trip possible for me.

This proved to be the best trip (yet) of my life and one which will be difficult to outdo… If you're thinking of applying next year, do it! You won't regret it!

And if any other young birders have any questions regarding the event, please feel free to contact me anytime. Twitter: @MaxHellicar1. Email: maxahellicar@yahoo.co.uk.